March 5th, 2014
With the explosion of the internet, most of our communication is made through email, text and social media. Regular mail seem like a slow, inefficient thing of the past… However, I think every business should have corporate identity elements like a letterhead and business card to maintain its image. These elements show that your business is established and serious. They help provide trust and credibility.
Your letterhead should of course include your logo, which is the most important element of your visual identity and be consistent with your other branding elements. (You don't have a logo? Contact Migrate Design as this is where you need to start… )
Your letterhead should be printed professionally and include all your contact information: address, phone, email and website address.
Website, email and social media are crucial in today's world, but a professionally printed corporate letterhead is just one more element that will define your brand and image to your clients.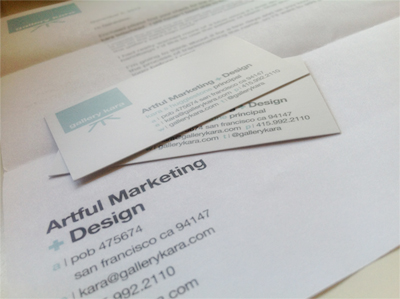 Here's a peak at my latest letterhead and business card design for Gallery Kara.
Filed under
Advertising, Article, Branding, Letterhead, Marketing, Migrate News, Print, Retail, Self-Promotion
|
Comment (0)