June 7th, 2011
Migrate Design created a series of greeting cards for Father's Day. Just like for Mother's Day, those cards will be available from the Tiny Prints website. Go take a look and, well… it's all about the dads! So get him a card and wish him a Happy Father's day ;)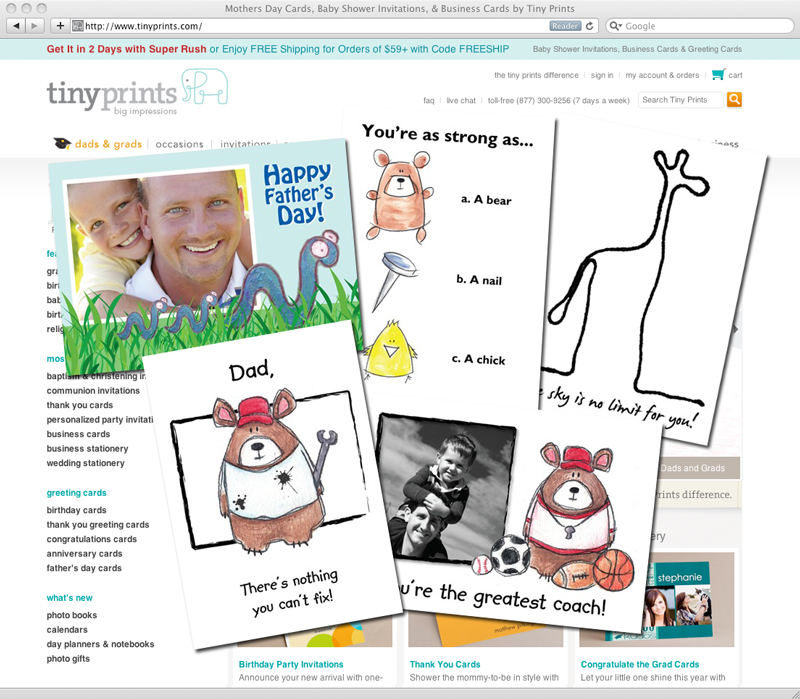 Filed under
Ecommerce, Greetings, Illustration, Migrate News, Print, Retail
|
Comment (0)
April 18th, 2011
Tiny Prints used one of our illustrations to help them advertise Mother's Day on their Facebook business page. Our card has been chosen out of the 583 they currently offer on their site. We don't mean to brag but… well, we are a little ;)


So if you haven't done so already, don't hesitate one more second. Get your Mother's Day card from Tiny Prints!
Follow Migrate Design on Facebook!
Filed under
Ecommerce, Greetings, Illustration, Marketing, Migrate News, Print, Retail, Social Networking
|
Comment (0)
April 8th, 2011
We are so excited to announce our collaboration in designing some very trendy greeting cards for Tiny Prints. Tiny Prints, Inc. is a thriving ecommerce brand offering stylish cards, invitations, personalized stationery and photo books to customers from around the world. They are quickly becoming a household name that is proud to remind us all that sometimes the tiny things in life are really the big things in disguise. Migrate Design will be designing greeting cards for Tiny Prints on an ongoing bases. Here is a sample of what we've done so far: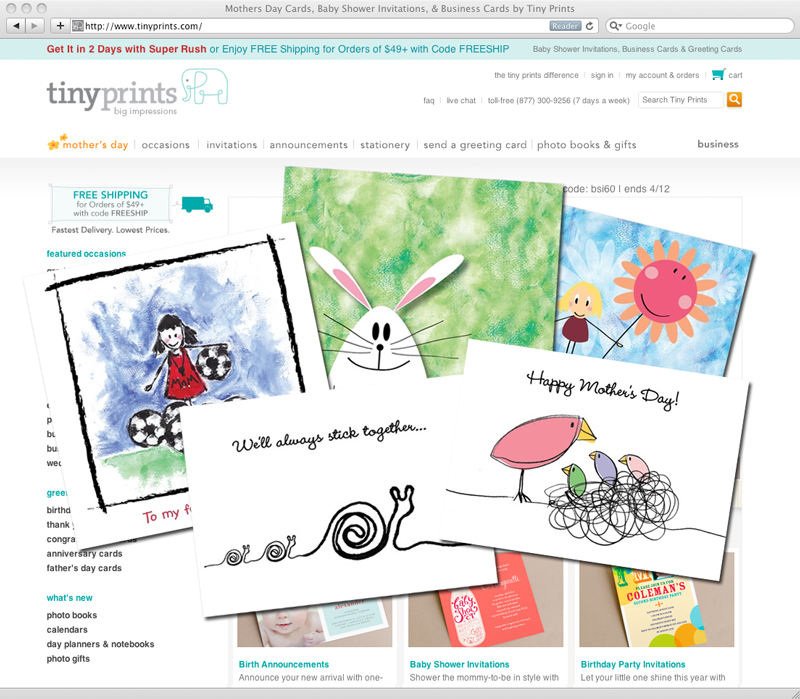 Mother's day is just around the corner, so pay them a visit and shop at tinyprints.com!
Filed under
Ecommerce, Greetings, Illustration, Migrate News, Print, Retail
|
Comments (2)